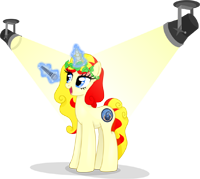 Guests of various art professions are the adornment of all bigger social events and this year's Czequestria won't be an exception.
We are honored to introduce the first of our guests: the Slovak VA known to bronies for giving her voice to Pinkie Pie, Lenka Debnárová!
After finishing her studies at the university of musical acting she has been involved in dubbing as well as both radio and television moderation. Her voice brings many foreign characters to life, such as Padma Patil in Harry Potter or Stephanie Barnett in Big Bang Theory. Currently, you can also see her on the biggest Slovak TV Markíza as a Weather reporter.
Besides her family, she also deals with horses in her spare time – certainly quieter than Pinkie Pie 🙂
Voice Acting in MLP: FiM example – episode S01E15 – Feeling Pinkie Keen in Slovak.
Find out more on the Guests page.