In order to ease up on some of your sweat during your visit, we've prepared this list of helpful sites and information on how to get around. And don't forget: a towel is an important travel accessory, especially considering the fact that Czequestria takes place during summer!
If you wish to get around the country then the best site for public transport search is PID Lítačka, Pubtran, or Google Maps applications, all these applications require an online connection to work. Check your data roaming plan beforehand to avoid high charges from your GSM operator especially if your country is not within the EU Schengen area where data roaming is forced by EU law. For general use in your browser, you can use the IDOS website. Note: when you use idos.cz website, don't forget to switch language and timetable search to "Pražská integrovaná doprava" (Prague Public Transport) before you conduct a search. By default, it's set to conduct a search in all available Czech republic transport systems combined.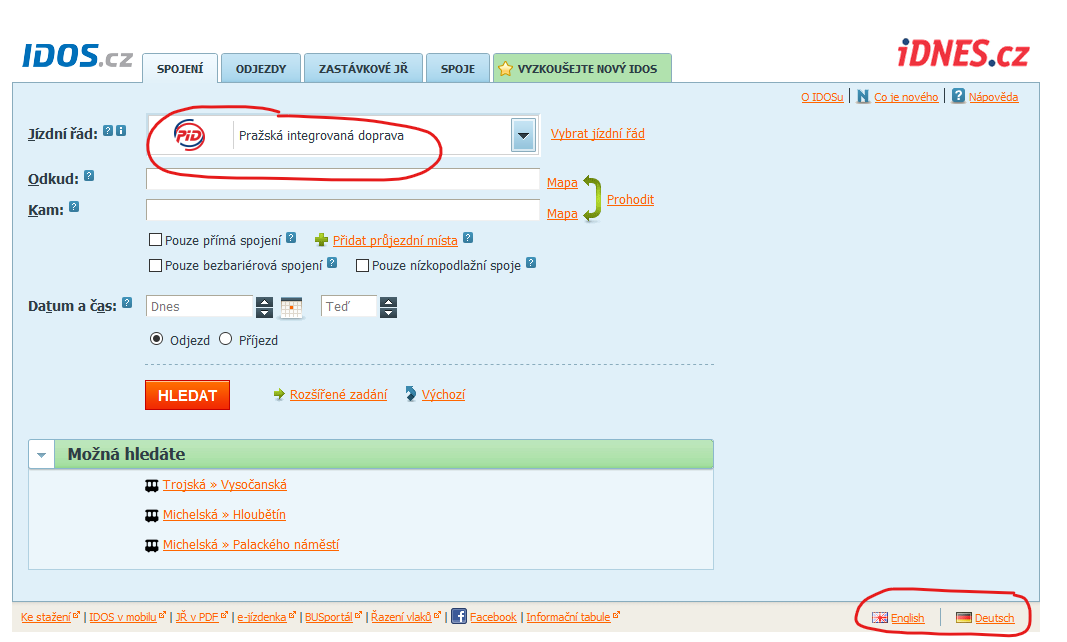 If in doubt about transport, don't hesitate to ask us on our Discord chat server in the #travelling channel or the Czequestria 2019 thread (don't worry and use English there) on our bronies.cz board.
Public transport in Prague – how to
Tickets can be purchased in vending machines (with coins – vending machines return change – or with a contactless card in the newer machines with touch screens) at most tram or bus stops, and at the metro entrances and in PID Lítačka app. Some newspaper stalls and shops sell tickets too. More info on purchasing the tickets can be found on the PID website (CZ, EN).
From April 2019, you can buy a ticket using a contactless payment card in all trams in Prague – you simply enter through the middle door (there will be the sign about paying contactless) and buy a ticket at the terminal. The ticket purchased in this way is automatically validated (see below) and therefore must not be validated again in a normal ticket validator. If you do that the ticket will become invalid!
Tickets vary only in their validity period (30 minutes, 90 minutes, 1 day, 3 days) and can be used for metro, trams, buses (except AE lines from/to the airport), city train lines, funicular and ferries in Prague. The number of transfers does not matter – you can travel and transfer between lines and types of transport at will and as long as you have a valid ticket.
Ticket price is based on the validity period: 30 minutes – 24 CZK, 90 minutes – 32 CZK, 1 day – 110 CZK, 3 days – 310 CZK (discounted to half price for children between 6 and 15 years old, except for the 3-day ticket). For the actual and detailed pricing information, please visit the DPP website (EN, DE).
When you enter the public transport (or at the metro entrance), you need to validate the ticket correctly. There are yellow machines placed by the entrance doors (trams and buses) or hallways (metro) before the compulsory area. Insert the paper ticket in the arrow pointing IN it and it will print the current time there, so you will know if it's still valid as it's shown in the video. The ticket is valid from then on for the full marked time (eg. 1-day ticket = 24 hours from the time of stamp). You mark the ticket only once – on the first boarding. When changing the lines, just walk through the door or the underground entrance. Multiple times and/or badly marked (as well as unmarked) tickets are not valid!
If you prefer the convenience of using your mobile phone, you can download the PID Lítačka App (EN), which is available for Android and iOS. The app allows you to buy all kinds of short-term tickets (up to 3 days of validity and up to 10 tickets at once), which can be used in place of paper tickets in all means of transport operated by the Prague Integrated Transportation (PID) system. You purchase the tickets with your payment card and then validate them directly in the app, either immediately or later when needed – an internet connection is required for the purchase and validation. For ticket inspection, just provide the QR code of your ticket (available offline). The app also allows you to search for connections or check for any interruptions in transit.
You may get checked at any time, at any public transport vehicle as well, as in the transit area of any metro station (once you pass the entry point with the ticket validation machines), and by traveling without a valid ticket, you are risking a fine. The 3-day ticket costs 310 CZK (~12€), the fines start at 800 CZK (~30€) and you may be checked more than once… You do the math. So, whenever a transit inspector presents you with their badge, show them your ticket. More info at https://www.dpp.cz/en/fares/penalties-transport-inspectors (EN, DE)
Plans for public transport in Prague (EN) can be also downloaded in PDF and PNG format (useful in case you don't have mobile Internet access).
How to get to the venue by public transport
The bus stop near the venue is called Krakov. You can get there by daytime buses 102, 177, 236, and 202, the night bus line back to the city has the number 905.
The nearest metro station to the venue is Kobylisy (red C line) – from there you can take the buses (see below). The fastest transport from the recommended accommodation places can be found on the Accommodation page.
For connection from other places use the links in the previous paragraphs or the following selected routes:
from the Václav Havel airport

Bus 119 → Nádraží Veleslavín → Metro

A

(green) → Muzeum (transfer station) → Metro

C

(red) → Kobylisy → Bus 102/177 → Krakov
A great video describing the best way from the airport to downtown (and basics of Prague public transport)
There is also the Bus AE (Airport Express), which operates outside the PID ticket system,

is paid separately

(it's more expensive), and brings you to the top of the main train station (take elevator or stairs on the side). We don't recommend this option, because it's much more expensive and not shorter than regular public transport lines.
from the main train station "Hlavní Nádraží"

Metro

C

(red) → Kobylisy → Bus 102/177 → Krakov
How to get to the venue by car and parking information
Czequestria takes place in KD Krakov at the address Těšínská 600/4, 181 00 Prague, Czech Republic. Please respect the "No entry for all vehicles" traffic sign in front of the venue.
The venue is located outside the crowded historical center of Prague, so nearby parking is not a problem. Suitable options: