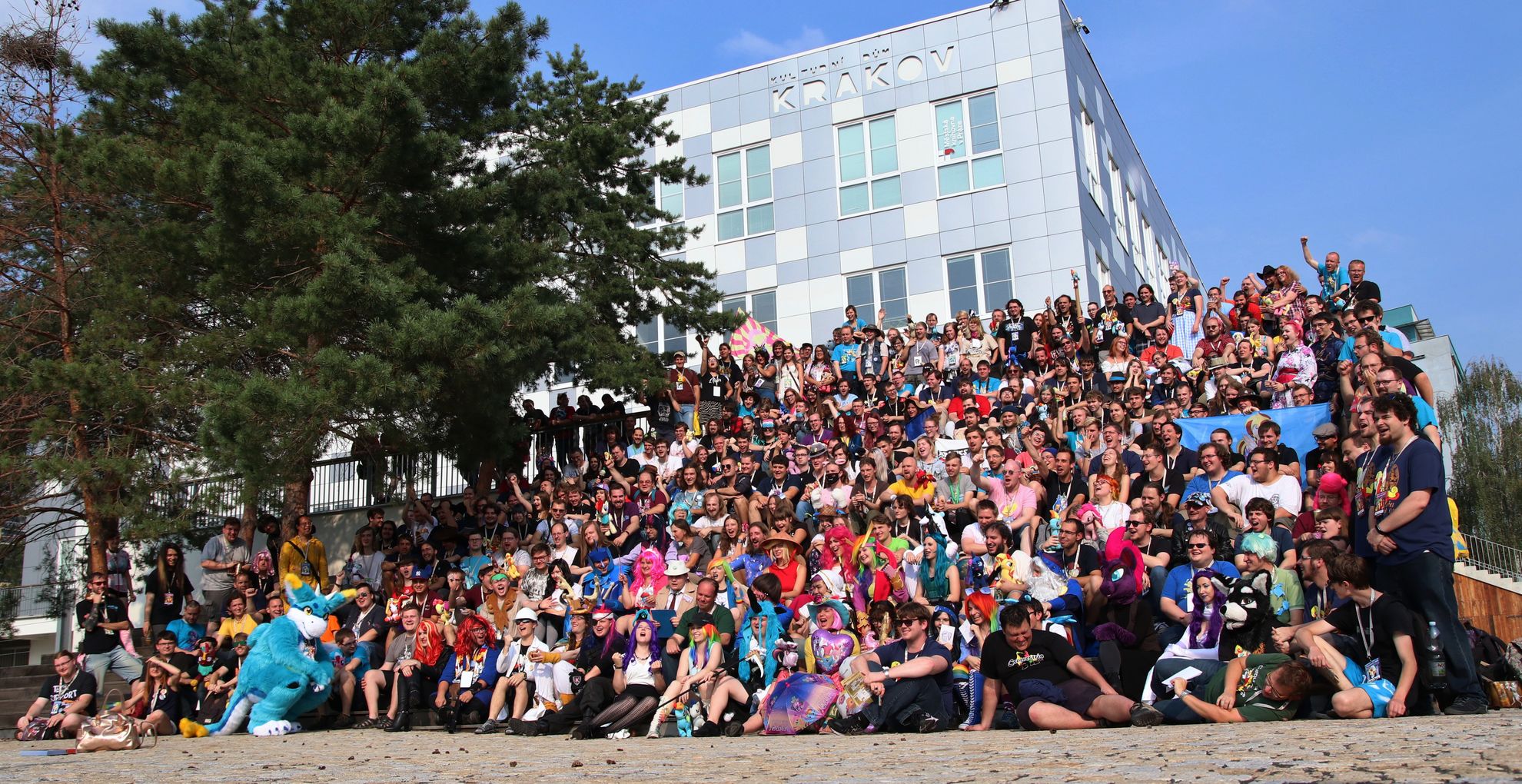 "The voyage to the world of My Little Pony, where Friendship is Magic: To the Equestrian Ancient World and back again!"
Five years since the first Czequestria, and who would have thought… does it sound like a cliche? Perhaps. But as the time is running and every year forces us to look back at everything we have gone through, whether as fans, attendees, or friends. The smaller or bigger changes over that time have probably caught all of us, including Czequestria itself. But many important things stayed – shared memories of events and long-standing friendships that brought us together and, despite the occasional adversity, remain today. Whether we like it or not, for many of us the events around My Little Pony have become an experience that we will carry on for the rest of our lives.
We firmly believe that although our favorite series ended this year in its 9th season, its legacy will persist, and together we will add even more experiences to our lives that we will all be worth remembering 🙂 as long as we have the desire of "meeting up the pony way", we have no reason to stop!
But enough of the past and future – the present is the important one. First things first:
Thank you all!
My thanks to everyone who contributed to this year's Czequestria! Although it may seem unbelievable, the whole convention has been prepared or helped by more than 80 people! They all contributed to the fact that Czequestria happened as we all remember it.
Thanks also to all attendees, because in the end, without you who decided to come, the whole con would be meaningless.
So the next time you look back, don't forget to remind yourself that this year's Czequestria has become the most successful one so far also because of you. And I am honored to be a part of it all together with you!
Thanks to all guests for their participation and a great con atmosphere!
Elley Ray – for an insight into the world of voice acting at the other side of the ocean, a spontaneous meeting of sea ponies, a pleasant company for everyone involved, smiles, and unexpected fun at every step.
Petra Hobzová – for the panel about Czech dubbing and its tricky parts, as well as for the willingness to visit us despite her busy schedule all weekend, and for answering all of our curious questions.
The Overmare Studios – our traditional guests for their abundance, the panel about news in Ashes of Equestria by AdamJ, Ansis, Hamish, and Robert, also for an insight behind the scenes and into game music not just in games.
Exiled Game Team – for a panel in which Misiek, Eljonek, and Slaaneshi introduced the Starved for Light game, and for the answers to a series of questions asked by attendees.
Perrydotto – for a traditionally excellent auction show at the end of Czequestria, and for an incredible endurance beyond the planned end of the program.
Thanks to all the musicians for the Saturday party!
ILLUMNATION – to our traditional guests in a new guise for a concert full of emotional music on the border of light and dark.
Prince Whateverer – for a live heavy metal performance that many visitors couldn't wait to see.
DJ Delt∆ – for the final dance party that made your feet, as well as the building cladding, move, and (as traditionally told to us by the police) that got at least one toe of an unknown displeased local stepped on.
Thanks to all contributors and panelists!
Malte279 – for a panel about non-traditional forms of art in the brony community and especially for a chalk-drawing workshop outside in the park, which not just bronies, but also many passers-by could admire.
Kler and Daseh – for organizing and moderating an MLP quiz and an MLP cosplay workshop with a unique opportunity to try the basics of creating your own costume.
Wrii – for a panel about MLP cosplay, which showed us tips on where to start with cosplay creation and explained what cosplaying is all about.
PlushieCon – namely RailwayDash, RisingStar, and RainbowDave for organizing the first large MLP: FiM con for plushies of all sizes and shapes at Czequestria.
Táňa Marková – for a documentary film about duchess Libussa, who inspired our own Libussa – the pony mascot of Prague and Czequestria itself.
Light – for organizing drawing workshops and a cupcake decorating contest.
Paint Swirl – for the Czequestria opening video, which shows that preparing a con is not any easier than building an Egyptian pyramid 🙂
DSC graphics – for the Czequestria closing comic video "Night at the National Museum" with Libussa in the leading role.
THANKS to all that have helped during the preparations and running of Czequestria!
Melgarh – for organizing the Saturday party, whether it was a loan of not only musical equipment, preparations on-site, or arranging visits of the musicians. Also for the invitations and organization of our community guest visits, the panel with Elley Ray, and a laser show for the party that was entirely under his lead. Last but not least, thanks for helping with the organization of the bar, My Little Rockband, processing the charity auction result, general comments on the organization, graphics, and for helping with the urgent tasks when needed. Thanks also for your help in PR.
Tom0147 – for organizing the LARP: from writing the storyline, planning the route, purchasing and transporting the materials, preparing and printing the documents as well as completing them, briefing for the NPCs and starting the whole event at Palacky Square, to the final stage and evaluation of the whole game during the Saturday program. Also, thanks for the organization of the entry, signing event, proofreading, and help with the preparation of the bar on the first floor – thanks to him we all enjoyed the best cider all around.
Antošík – for all the organization of vendors and exhibitors, from application to planning and on-site troubleshooting, as well as handover merchandise to participants, decorations in the venue, and assistance with the signing event. Last but not least, for valuable legal advice any time needed – although it may seem superfluous, the acceptable and comprehensible event rules cover our backs and so we can all sleep more peacefully.
Wander Fox – for managing all the work of the Czequestria graphic designers team that we worked much more efficiently this year, for ordering and shipping merchandise for crowdfunding, preparing, building, and operating DDR Trotmania, help with transport of people and material, and preparing conguide with almost endless patience. Last but not least, thanks for the Miss Libussa directly on Czequestria – so if you had no idea who was hiding behind the life-size Libussa that appeared among the participants and on the stage, now you know 🙂
Latteller – for organizing the transport of guests and material to and from the venue, which he personally arranged many times, for organizing the Saturday cosplay show with Hagura, and for the panel with Czech VA, Petra Hobzová.
pipa943 and Pajzl – for organizing  Czequestria volunteers: from recruiting, communicating, planning shifts, and overseeing the event, so that everything goes as it should and people are in the right place at the right time.
Jakluk and AutumnBreezee – for organizing the charity auction which is one of the most challenging events at Czequestria: from materials preparation, to picking up donated items on-site and planning the event itself, to the final billing. Jakluk also deserves big credit for organizing event entry and ticketing overseeing.
Frolda – for CZ/SK voice actors invitations and all the organization around their visit, as well as for the preparation and moderating the panels with Elley Ray and Petra Hobzová. Also for moderating the cosplay show, starting the opening ceremony, and for his helping hand whenever needed.
Vojta (tydlitele) and d'Artagnan – for providing, transporting, and operating all the audio equipment in the main hall throughout the whole Czequestria: from the preparations that took several hours, correct setup and adaptation as needed, to audio recordings, constant supervision of the operation, and valuable sound and reproduction advice.
Fang – for providing the hardware, preparing and operating the data network, including an on-site Internet connection, the providing, preparing, and operating the live stream video equipment, recording of the program from the main hall and the recordings post-processing, so we all can see now what Czequestria looked like. Also thanks for your help in PR and communication with official photographers.
Spirittis and Dex – for all day filming in the main hall and assistance with the program whenever needed. Also a big thanks to Dex for providing the hardware for My Little Karaoke and setting it up.
Cwossie – for grammar proofreading of most Czequestria texts in Czech and in English: be it PR announcements, texts for website, LARP, conguide, or this "Thank you" post. Also thanks for the help with PR, and for moral support whenever needed.
Claymon – for the transportation of VIP and community guests in perfect style, not only between the hotel and the venue. Also for his help with anything on the spot whenever the situation required it.
Nephalla – for organizing workshops in general and baking cupcakes for cupcake decorating contest.
Xsoft – for his traditionally unconventional entertainment in the form of Czequestria chairman simulators for all who would like to try out organizing an MLP con, for an interactive electoral system through the doorway, and an even more unusual first-floor toilet decorations. Such novel and somewhat crazy actions give the whole event a unique informal touch.
To all graphic designers who make Czequestria much more colorful and decorated!
WanderFox – for leading our team of Czequestria designers, for lanyard and name tag design for all types of the tickets, graphic design and assembly of conguide, preparation of printed materials, designs for roll-up banner, bath towels and coins for crowdfunding, accompanying graphics for live stream and digitization of many graphic designs.
Dyonys – for designs of pin buttons and posters for Senator tickets, mugs for crowdfunding designs, and also for conguide designs.
Cwossie – for crowdfunding pin buttons and merch bags designs.
Light – for designs of pin buttons for Patrician tickets, Miss Libussa 3D figurine design template, and OCs for guests, also for the live stream background.
MesuYoru – for designing name badges for all types of tickets, posters, and coins for the crowdfunding, and for Czequestria T-shirt design, which was subsequently used as an event logo or for the crowdfunding pint glass.
Melgarh – for designing navigation signs and posters, idle background on the screen in the main hall, and especially priceless help in vectorizing many graphic artworks.
Antošík – for help with conguide preparations.
SteveLynx – Miss Libussa 3D figurine design for Senator tickets.
Patch'n'Paw – for graphic designs for the VIP guests.
Pixelkitties – for autograph card design for the VIP guests.
To all who participated in LARP organization and preparations!
Tom0147 – for the overall organization of Friday's LARP and overseeing the whole event.
Hankha, Jakluk and Melgarh – for valuable help and advice during the planning.
Cwossie – for all the quick proofreading and corrections.
Frolda – for even faster text translations.
Aldar, Hankha, Jakluk, Bilbo1, Kocickazuzik, and Houpe – for completing the materials for the participants, in organizer jargon called "bagging".
Vojta (tydlitele) – for lending, transporting, and operating the sound system at the LARP starting point.
To all of the LARP NPCs!! (in the order of game path)
Michal, Jakluk and Hankha (book loving scientists), Alkel (librarian), Pidi (Diamond Dog), Light (Siren), Cwossie (Harpy), Frolda (Roman), Kája (Satyr), Eliška (Medusa) a Peťa (Starlight Glimmer).
Thanks to all the staff at the bar/buffet next to the main hall!
Hankha – for the overall organization of the bar/buffet, including shopping, planning and on-site service, as well as all helpers during preparation and on-site!
"I'd like to highlight the amazing amount of effort the staff put into buffet preparations and into keeping it operating at peak efficiency during the event!
All of them spent almost the whole convention serving all of you with a warm smile and joy, spreading happiness. Furthermore, they kept me from crashing down, working overtime themselves.
Namely, I thank Ithil, Peťka and Pidi for their hard work in the kitchen, AutumnBreeze and Eli for bartending, Jakluk, and Claymon for the help with stocking, QJmasterCz, and DragonsCZ for getting up hours earlier than they had to, to help me with the heavy lifting. Kája for the navigation through Prague in a car and helping me get a tap for cider and Kofola, Tom0147 for lending his coffee machine and grinder (even though they are his preeeciousss) and stocking all the coffee and cider. Melgarh for his advice in drinks and all the rest of the people helping with various stuff.
Last but not least, I'd like to thank the convention core team since the buffet would not be possible without them. Hope to see you at some meetup soon!
— Hankha

Tearoom staff on the first floor!
Nephalla and her assistant – for organizing the tea room, equipment provided, the seating area, and lots of delicious tea for all Czequestria participants.
Thanks to all the staff at the convention!
Security overseers and guards of Czequestria – DragonsCZ, Pajzl, QjmasterCz, Flaiming, helke, and MattKa
Dressing room staff guarding the personal affairs – Aya Yai, Quint t. W., Bori, Aldar, MrMaidx, Anemonis, and MikeTwike
Workshops (creating with ponies) supervision – Ruushii, Light, Stjonal, and Blossom
My Little Karaoke (singing with ponies) supervision – Bilbo1, Houpe, Meow, and Rainbow Derpy
DDR Trotmania (jumping and dancing with ponies) supervision – Krajkhour, Wander Fox, Fun1k, and Kočičkazuzik
My Little Rockband (playing in a music band with ponies) supervision – Wailord, Iluzon, Basillix, and Wander Fox
Sellers and issuers of all Czequestria merchandise – Sc@lix, FrosterDune, IzV, Light Bulb, Bilbo1, Ruushii, and FOXI
Medics, always ready to take care of the health of the participants and the organizers – Rini
Photographers who captured the events from close up and from afar!!
BlueStorm and _TK_ – for their photos capturing the atmosphere and participants, both at the LARP and throughout the weekend!

Filming and Documentation Team!
Honzdir and his assistant – for documentation of the weekend event, interviews with guests, and participants in many interesting moments. We are looking forward to the reportage!
CREW publishing!
For the first official MLP: FiM comics translated into Czech, PR cooperation, and big thanks for the comics donated as prizes to competitions!
Vendors and exhibitors!
Tyroplushies, Loneless, Schimy, Red's Pocket Ponies, Burgunzik, Waffle Wishes, Torben Goldmunds Art 'n' Prints, U Spikeova ocásku, Mangamaus, Ady a Ratlovera, Segraece, Light, Winter Arts, PiriPaints, FerraCraft and Валерия Галанова for a lot of fantastic merchandise, which we could buy and/or sharing their works and pony-related activities with all of us!
Warden David Sekerka and employees of KD Krakov – for willingness and support, whenever we asked for help or a change of plans.
My girlfriend Madeleine, as well as to all of the relatives and close ones of all the organizers, who were standing by our side till the end – for immense patience and nerves during the last 6 months when we've not been there for you due to preparations of Czequestria.
Lauren Faust, Bonnie Zacherle, and everyone in MLP: FiM team for series, movies, comics… and the whole for the MLP phenomenon that bridged all the obstacles and distances between differences, inspired millions of people around the world, and eventually led some of us to Prague to Czequestria 2019. Thank you and remember that all this happened also thanks to you!
One final THANKS to all the attendees! Czequestria would not be the same or even possible without you all – so please accept our thanks for all the people who worked on any part of Czequestria 2019!
I'm looking forward to meeting you at any of the meetups or MLP cons!
– Jaroslav "Jamis" Haken –
Chairman of Czequestria 2019