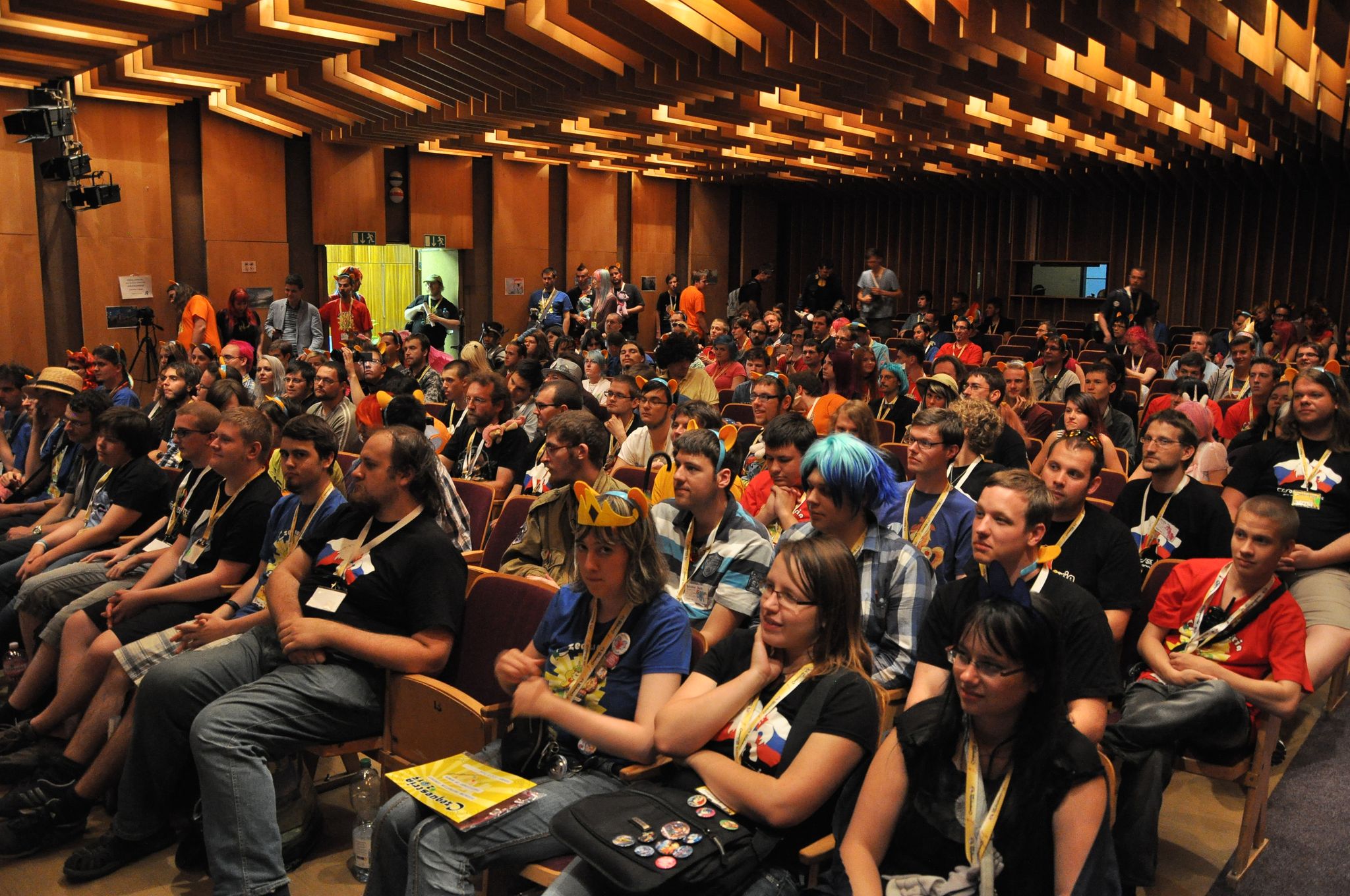 Czequestria – the very best of what the CZ/SK brony community can achieve, when everypony align their energy, strength, and work together towards a common dream to be turned into a reality!
Looking back at my past makes me wonder if at least once in my life the things will go according to plan. From the very beginnings of the first MLP: FiM CZ/SK convention preparations I honestly don't believe that it will ever happen. The question itself doesn't matter anymore…
Since Czequestria, no matter how badly or well it was planned, has received generous help from many people, each and every one of them playing their small or big part, has become something that will definitely remain a wonderful memory of not just a bunch, but hundreds of bronies, visiting from all over Europe and beyond!
Despite its greatness, it all can be summed up into a single word:
Thanks!
I would like to take this opportunity and thank everybody that has participated in Czequestria 2015, no matter how big a part they've played for even the small things do count! And when you remove even a single piece from a large mosaic, it won't just be the same anymore.
So whenever you look back at this year's Czequestria you can be sure that your effort will reflect in this great community event and I'm honored to be part of all of this, together with you all!
THANKS to all the guests for attending and helping us make a 20% cooler convention!
Josh Haber – to our very first guest from beyond the great ocean, who has enlightened us in regards to scriptwriting of episodes as well as patiently answered curious questions from the attendees! Sadly he could not attend in person however the Skype video-call sure did have plenty of interesting moments!
Helena Brabcová – to our historically first Czech VA guest that had the courage to meet and greet bronies and to witness us in person. And even more, as she was the one who started the Czequestria 2015 by cutting the cake! Big thanks also for uplifting the veil in regards to the Czech voice acting & dubbing scene as well as answering all those questions from the audience. We wish you all the very best and good luck!
Bibiana Ondrejková – although she had to cancel at the very last moment due to serious family reasons, we would like to sincerely thank her for her willingness to attend and looking forward to greeting you at any other event!
Pony Berserker – for his courage to attend his first MLP convention as well as prepare the panel regarding comics arts! Also, we've to pass a message to you from Libussa – she is looking forward to meeting you the next time! 😉
The Overmare Studios: Adam Sporka (AdamJ), Hamish Milne, and IvoryKeysADSR – for all of the secrets revealed about their game project "Fallout: Equestria"; we are quite sure that it won't be just the playable demo that the attendees will remember!
Stable-Tec Studios: Jaroslav Vozár (jerry411), DSC-GRAPHICS, and AqueS Levaro – for a prom… excuse us, for a Czequestria intro video which was well funny as well as for panel regarding pony animation and their know-how.
Perrydotto – for an awesome and action-packed charity auction where she has achieved the impossible: a bid-war of CZ/SK bronies versus German ones for her very own hat with an incredible result of over 10.000 CZK, making it the most valuable item sold during MLP charity event in Czech and Slovakia!
THANKS to all of the musicians for the Saturday Party event!
Adam Sporka (AdamJ), Hamish Milne, and IvoryKeysADSR – for a musical performance to start the evening off and for setting the mood just right!
Przewalski's Ponies – for being the main musical number of the evening and performing their very own concert as well as other music from various genres that did move many of the attendees, on the inside as well as on the outside
DJ Aerial and his assistant – for an exciting combination of music and visual performance that has heated the things up on the dance floor – Vinyl Scratch would be proud!
DJ Joël – for a musical show on the very end which has caused many attendees to dance and refuse to leave, no matter how tired they were!
THANKS to all that have helped during the preparations and running of Czequestria!
Melgarh – for all of the organization, preparations of anything and everything, invitation and care of the guests as well as PR (Twitter, Facebook, Forums,..), lanyards, entry badges, convention guide, T-shirt designs, for kicking me in the plot (whenever needed) and even for taking over my tasks when I've been exhausted and spent. For representing CZ/SK bronies in EPCU, preparations, and moderation of panels, solving various kinds of trouble, rental of technical equipment… and thousands of other things which were needed to make Czequestria a reality
Tom0147 – for extraordinary patience and resilience during the preparation of the Friday LARP event and all of the tasks that were needed to complete it (like scriptwriting, necessary modifications, alpha, and beta runs…). All of this required so much energy and patience that other parts of Czequestria paled in comparison. Also thanks for the portal from Equestria to Czequestria and back!
Pajzl – for managing all of the staff related tasks, such as the schedules, communication, organizing teams for bigger Czequestria tasks, handling and managing finances, providing on-site security that had respect as well as was respectful to all the attendees and guests.
CreepyRiver – for taking care of the vendors as well as creating the badges with Czequestria & Libussa. Also, thanks for all of the driving throughout Prague whenever we needed, be it people or gear, as well as for providing a helping hand to whichever task was needed at the time
Claymon – for transporting goods and people to/from Czequestria, no matter the day or hour, no matter how many kilometers you've already driven through the day and night! Also big thanks for helping out at the convention and especially the Check-in process and being there for us whenever we needed help with something! Also cheers for helping out with the construction of (Cz)Equestria portal! (And sorry for forgetting to put you in the conguide mention, oops sorry JanoS! :D)
Kája and AutumnBreezee – for charity auction preparations as well as all the necessary legal stuff surrounding it, including paperwork, information for attendees, item collection, and photography as well as managing the auction itself.
Vojta (tydlitele) and d'Artagnan – for taking care of all of the sound engineerings during the entire Czequestria and not just in the main hall, but also in Grand hall as well as helping us with other sound-related necessities. Great job guys!
Nephala, Denča Keřlíková and Light – for managing the workshops where the visitors could make their own cupcakes, paint a blind bag or even a horseshoe for good luck and happy memory! Also thanks for inspiring people to create as well as looking after various contests that were taking place in the Workshop room.
xsoft – for preparations & management of the DDR and other music-type games during Czequestria as well as for his own initiative for letting the word out about Czequestria in an original way. Also thanks for the valuable advice prior to Czequestria which have helped us to avoid the usual mistakes that happen when organizing a convention and also a big personal thanks for supporting & being there for me when I needed it the most.
Antošík – for a gorgeous looking CZ/SK art gallery in the Foyer of the Mane Hall as well as for taking care of the CZ/SK & Czequestria stall including the Crowdfunding goodies and Castle Royale rewards!
Moontune – for preparing various unique themed drinks and beverages that he has been making during the entire Saturday evening and that have sparkled so much interest.
SteveLynx3D – for a lovely design of Libussa figurine that has been given to all Castle Royale ticket holders
my sister Magda – for the tasty looking Czequestria marzipan cake and preparations of the necessary items for Cupcake decoration contest
Alkel U3, Corwin, and Ithill – for taking care of the catering as well as preparations for the cupcake contest in record-breaking time and high quality & care. Thanks go from all of us who have enjoyed the food prepared by you lot!
Telofy – for representing the organization Bronies for Good that will look after the funds from the Charity auction and will make sure that the money is used with good purpose on a long-term goal, not a one-off so that the help has a lasting and meaningful effect.
AdamJ – for being a super cool generous guy, with a never-ending smile, constant optimism, and good mood that he has shared with us as well as always being ready to aid us whenever was needed
Václav Jirásek and his assistant – for providing a professional photography service during Czequestria, we are looking forward to all of those photos!
THANKS to all of the brave defenders of the Czequestrian gates during the nonscheduled Saturday fitness exercise at the front doors!
For absolute dedication and sacrifice during the troublesome situation and keeping the peace at Czequestria. You call can be proud for being so courageous! Thanks!
THANKS to all the art & graphics designers who have made Czequestria more colorful and fancy-looking!
Cwossie – Without Cwossie the convention guide would be just a boring text. Frontpage, small artworks of Libussa in funny poses on the background are just a few things to account for! The website was enriched by her as well via various Libussas as well as OC designs for several guests! Big thanks from all of us for the awesome work!
Aya Yai – For superb and cute designs of Libussa including the artworks used on various rollups without which the Czequestria's decoration would be so plain!
ID:107 – The simplicity, elegance, and style are all that was put into that Libussa design on lanyards. It was so great that all of the members of the management team agreed to use it without any lengthy discussion.
Cally – For the "lost design" of Libussa – that has been brought back to light! If you have noticed the Libussa on the walls with big "ATTEND" under it as well as the badge design for crowdfunding rewards, it's all her work!
Baterka – Big thanks for a lovely logo with Libussa artwork that has been used during a PR session for Czequestria.
Danny Brightwing – It's thanks to Danny that we have that lovely Czequestria flyer which you could have seen at Galacon and elsewhere! Keep up the great work!
Thanks to all who made LARP possible: Tom0147 (lead organizer of the LARP) and to his assistants Michy, Antošík, and Honzdir for assisting during various crucial tasks such as story revision, graphics, logistics, and even preparation of the final materials for the attendees. Thanks also go to pipa943, Cwossie, and to Frolda for translation and correction of the texts as well as to Claymon and many others for beta-testing the entire game.
Thanks to all of the LARP NPC's, for giving this exploration game a soul as well as doing an amazing job at it: Alkel U3, Kája, AutumnBreezee, Aya Yai, Vojta (tydlitele), Iluzon, Jakluk, Frolda, d'Artagnan, pipa943, and Eli.
Thanks to all of the volunteers: Aya Yai (cloakroom), Mancer (cloakroom), IzV (DDR), MrMaidx (My Little Rockband, stall), Tadashi (cloakroom), Bori (My Little Karaoke), Dex (DDR, security), pipa943 (cloakroom, security), Ajkokos (cloakroom), Iluzon (My Little Karaoke), Quint-t-W (cloakroom), sirMichael (security), Krajkhour (My Little Rockband, DDR), QjmasterCZ (My Little Rockband, security), houpe (cloakroom), AutumnBreeze (My Little Rockband, stall), AnimEs (My Little Rockband), Frolda (My Little Karaoke), Kája (My Little Karaoke), Tobyyy (security), DragonsCZ (security), Slugma (DDR), Black (medic) Mrak (security), Wander Fox (anything urgent)
Thanks to Czequestria news report team: Honzdir (director & cam), Assassin (cam & editor), madA12345 (rental of the cam and lenses & subtitles), d'Artagnan and Vojta (sound), pipa943, Aya Yai, Tobea (subtitles), and everybody else who were not afraid to use their recording devices so that all can see!
Thanks to vendors: My Little Workshop, Przewalski's Ponies, Manic Sculptor, CreepyRiver & Schimy, Crochet is Magic, Stable-Tec studio, Dračí křídlo, BladeRain for supplying us all with awesome merchandise!
Ithill and Madeleine – for supplying us with food, coffee, tea, and a good mood during the preparations and for tidying up my home during the event so that the rest of the organizers could focus, get some rest and worry less!
Warden of KD Krakov – for his willingness to help whenever it was needed or the needed change in schedule to accommodate for longer charity auction
my girlfriend Madeleine, as well as to all of the relatives of all the organizers, who all have stood by our side till the end – for immense patience and nerves during the last 6 months when we've not been there for you due to preparations of Czequestria
Last but not least thanks to all of the attendees! Czequestria would not be the same or even possible without you all – so please accept our thanks for all the people who have worked on any part of Czequestria and see you in 2017!
– Jaroslav "Jamis" Haken –
chairman of  Czequestria 2015