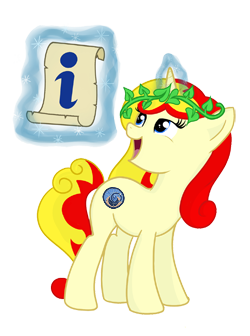 Hi, everypony!
Did you enjoy our LARP? If yes and you would like to find out how many points your team has scored or in which order has teams arrived at the final checkpoint then hit the link below!
Now for the cool stuff. The total number of groups was 21 and the game had 124 participants. Everybody has attempted to save Spike. The time difference between the first and the last group at the finish line was almost 5 hours while the group's start time did not take effect on this. If you would like to know more interesting facts and info, then feel free to tweet me (@tomaspre)!
The story as well as the instructions in the Czech language are my work while the books that you've been collecting throughout the game were provided by Rivel Arosis (Thanks!). Translation has been done by Frolda and pipa, proofreading by Cwossie and pipa's sister. Puzzles were invented mostly by D'Artagnan, checkpoint tasks were my creation.
In case you've feedback for me, please let me know! Be it through Twitter or via feedback form that we will send out shortly via email.
Thanks to every one of you for participating and helping!
The table with the results is here!
-Tom0147