Here you will find the events schedule of the Czequestria 2022 weekend, divided into Saturday and Sunday timetables. For the overall time plan for the entire weekend, go to the Time plan page.
The annotations can be found below.
Saturday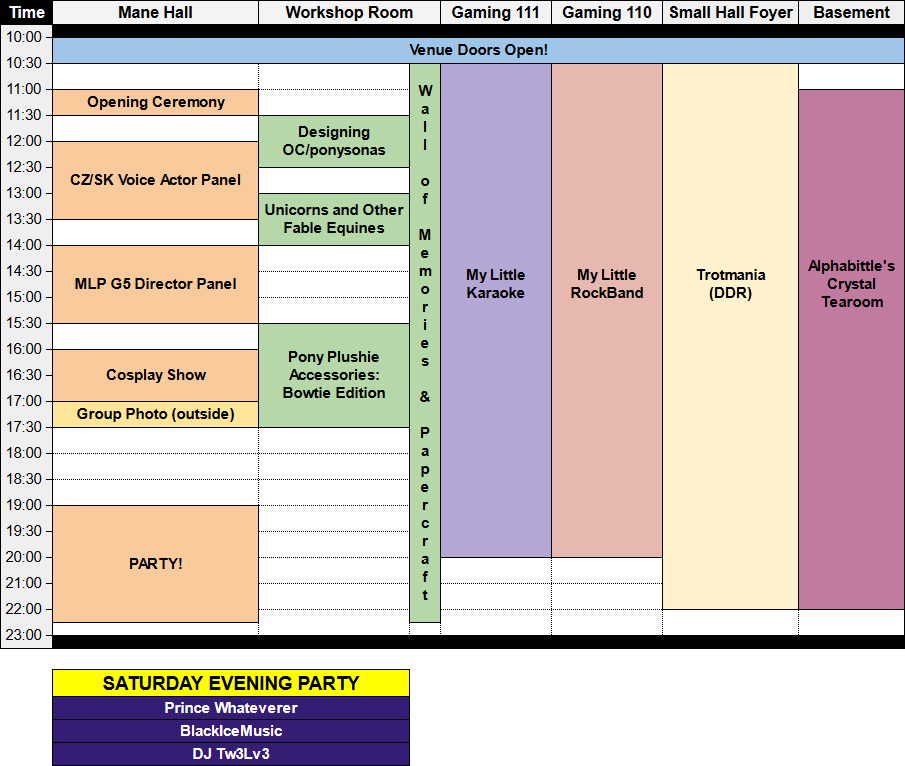 Sunday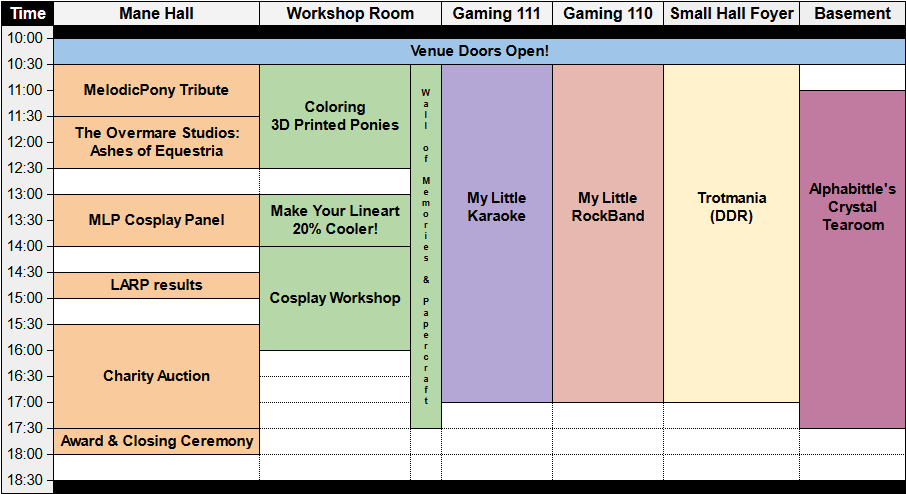 Mane Hall Events
Saturday
Opening Ceremony
Mane Hall // Saturday // 11:00 – 11:30 
So it begins – we are back after 3 years! A weekend full of ponies, bronies, fun, and the Magic of Friendship! We'll talk about our reunion, last-minute news, and everything that did not fit in this guide. Join us and let's welcome our esteemed guests together!
CZ/SK Voice Actor Panel
Mane Hall // Saturday // 12:00 – 13:30
We all know the original voices behind our heroes from the show, but there is much more to that! There are many language versions of My Little Pony, Czech and Slovak included. What's the difference between voicing and voiceover of an animated character and how does it impact the acting process? Come and ask Vendula Příhodová, Czech voice of Rainbow Dash and Sunny Starscout!
MLP G5 Director Panel
Mane Hall // Saturday // 14:00 – 15:30
As My Little Pony Universe recently expanded into a new environment, characters, and plot, so did the circle of those who give the world of Equestria the look as we know it. We are therefore honored to welcome Robert Cullen, the director of "MLP: A New Generation" and the founder of the Boulder Media animation studio! Join us at this Q&A panel to discover the secrets behind the new generation of ponies. Questions from the audience are welcome!
Cosplay Show
Mane Hall // Saturday // 16:00 – 17:00
Craftsmanship and acting – the two of the many qualities of cosplayers that bring colors, joy, and our favorite characters to life at conventions. Let's give them a big cheer for making the costumes for all of us to see and enjoy! Come & get inspired for a cosplay of your own!
Group Photo
Outside // Saturday // 17:00 – 17:30
From the Opening to the Closing Ceremony we all will enjoy various panels and activities. But at least for one moment, we should come together and make one memory that everypony remembers. Come and join the group photo on the wooden stairs right next to the venue!
Party!
Mane Hall // Saturday // 19:00 – 22:30
We are here together and we are here to party, no matter if that means rocking the dance floor or just listening to the tones and vibes! Give a warm welcome to all brony musicians coming with live concerts and DJ performances for everypony to enjoy!
Sunday
MelodicPony Tribute
Mane Hall // Sunday // 10:30 – 11:30
MelodicPony was a composer of symphonic music inspired by My Little Pony. In 2014, however, he suddenly died. His dream was to record the music with a live orchestra – now this dream is turning into reality with the help of the brony herd. Come to hear about the project background and progress from Bori, the leader of the MelodicPony In Memoriam project!
The Overmare Studios: Ashes of Equestria
Mane Hall // Sunday // 11:30 – 12:30
Well known to all "Fallout: Equestria" universe fans and also to regular Czequestria attendees, The Overmare Studios visited us again! Team member Ansis comes with the latest news about the development of the videogame Ashes of Equestria, based on one of the most successful brony fanfictions.
MLP Cosplay Panel
Mane Hall // Sunday // 13:00 – 14:00
Cosplay is a part of all fandom conventions since the very beginning. Have you ever wanted or adored MLP-themed costumes? Come to this panel, where we will talk about various types of pony cosplays as well as how to create them! Performed by skilled cosplayer Verča Matějková.
LARP results
Mane Hall // Sunday // 14:30 – 15:00
If you attended the LARP event on Friday, you sure want to know the results, how many people got lost, and other fun stuff. Presented by the one and only Tom0147, the head of Czequestria LARP events.
Charity Auction
Mane Hall // Sunday // 15:30 – 17:30
Get your wallets shaking because it's Perry and her charity auction! It's going to be a wild ride as this is the last feature panel, so do make sure to attend and enjoy it to the very last bit! As in previous years, your donations will support Chewal – the equine-assisted therapy association from the Czech Republic. Generosity welcome!
Award & Closing Ceremony
Mane Hall // Sunday // 17:30 – 18:00
The very last piece of Czequestria 2022. But before we return to our daily lives, there are a few awards to announce and the last things to do before we say to each other "See you next time!".
Workshops
Designing OC/ponysonas
Workshop Room // Saturday // 11:30 – 12:30
Have you ever wanted to create your own ponysona or design a character from the MLP universe for your fanfic and hit some struggle? This workshop is exactly what you need! Dyonys will guide you through the whole OC designing process: how to choose a color, race, name, cutie mark, and everything else.
Unicorns and Other Fable Equines
Workshop Room // Saturday // 13:00 – 14:00
We all know My Little Pony and its characters, but few of us have ever delved into the history and mythology of unicorns and other fable equines predating our beloved show. This panel from Malte279 offers a little insight into some of the historical sources, beliefs, legends, and art that make up for some of the roots of the series we know and love and that inspires us to continue the tradition with tales and art of our own.
Chalk Drawing
Outside // Saturday and Sunday // anytime
Let us enhance the appearance of the ground around the consite with chalk ponies. Assuming the cooperation of the pegasi in charge of keeping away the rain during Czequestria, everybrony is invited to join the fun. In the end, we are going to have a showcase project that will allow every passerby to get a glimpse of our fandom's creativity. Just ask for the chalks at the info desk at the con entrance.
Pony Plushie Accessories: Bowtie Edition
Workshop Room // Saturday // 15:30 – 17:30
Bowties are cool! So why not create one for your plushie by yourself? No matter if have never done it before, so this is definitely a good place to start! Stjonal will show you first how the whole process works and then you try it yourself – with help if needed. Not just your plushie will look cool with an extra accessory, but you can also add experience points to your skill tree!
Coloring 3D Printed Ponies
Workshop Room // Sunday // 10:30 – 12:30
Remember blindbag decoration workshops? Now imagine the same, just with much bigger ponies! Our 3D print enthusiasts, like Houpe who prepared this workshop, printed a lot of ponies for you to paint exactly as you want. Your imagination is the limit! Oh and… you'll have your very own decorated pony after this workshop. Miss Libussa can't wait to join!
Make Your Lineart 20% Cooler!
Workshop Room // Sunday // 13:00 – 14:00
Lineart is great, especially if you know how to do it. If not, it could be your nightmare. Together with Light, you will go through the design process of how to create an eye-catching lineart on ponies and non-ponies and how to apply it not only in traditional art. Ready to learn something new about creating pony art? Yes, you are!
Cosplay Workshop
Workshop Room // Sunday // 14:00 – 16:00
Have you just visited the MLP Cosplay Panel and want to take a look at cosplay from a more practical side? Are you interested in making a costume yourself? Come to our cosplay workshop! The main topic will be fabrics: properties of different types, how to use them, connect them together to desired shapes, and many other things. Verča has more than 60 samples of different fabrics ready for you to touch and try!
Wall of Memories, Papercraft & Free Drawing
Workshop Room // Saturday and Sunday // anytime
Blank canvas on the wall awaits to be filled with your drawings and paper ponies, pencils, colors, and papers are ready for crafting! So whenever the workshop room has an empty schedule, feel free to come and enjoy! Suitable also for CCG or tabletop games.
Accompanying Events
Alphabittle's Crystal Tearoom
Basement // Saturday 11:00 – 22:00; Sunday 11:00 – 17:30
Have you missed a calm place at Czequestria where you can sit down and take a sip of some good tea? Now there will be one! Located in the venue basement, hidden from all the rush on the higher floors. Just follow the signs down the main stairs.
My Little Karaoke
Karaoke Gaming Room 111 // Saturday 10:00 – 20:00; Sunday 10:00 – 17:00
Singing the favorite songs from MLP is fun, but singing together with others is even more so! Free singing, including the songs from community musicians, runs for the whole two days and will test your singing skills for sure! Or if you want to come silently and just sing along, of course, you can… if that's okay with you.
My Little Rockband
Rockband Gaming Room 110 // Saturday 10:00 – 20:00; Sunday 10:00 – 17:00
Have you ever wanted to try playing in a rock band? Now it's your chance! You can try guitar, bass guitar, drums, keyboard, and the brave ones can sing! All of the game is of horse ponified and full of pony songs from the show and community musicians. On the stage, guys!
Trotmania (DDR)
Small Hall Foyer // Saturday 10:00 – 22:00; Sunday 10:00 – 17:00
"The Ultimate Challenge" from the MLP G5 movie – that's exactly what DDR (Dance Dance Revolution) is. A music game that tests your reflexes and your body as well. Choose your favorite pony or brony song and then stomp your hooves at the right moment when the arrows pass the line. Soon, you will find yourself in the magic of rhythm in the pony world!