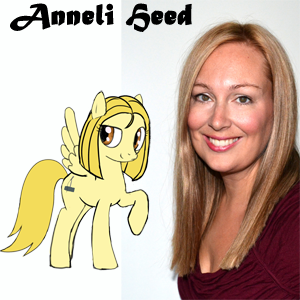 Je to neuvěřitelné jak pro vás, tak i pro nás, ale opravdu je to tak! Připravte se a přivítejte úplně první dabérku na Czequestrii – jedinečnou a úžasnou Anneli Heed!
Je ze země vikingské, neboli ze Švédska! Krom dabingu také pracuje jako komička, impersonátorka a též zpěv jí není cizí! Pro mnoho z nás, kterým se podařilo dostat na Crystal Fair, to bylo překvapení, protože jsme měli možnost ji vidět poprvé zpívat společně s Danielem Ingramem a bylo to úžasné!
Ale hlavním důvodem, proč je tak známá je Soarinův jablečný koláč, protože nikdo jiný to prostě nedokáže říci lépe!
Více o hostech naleznete na stránce Hosté.