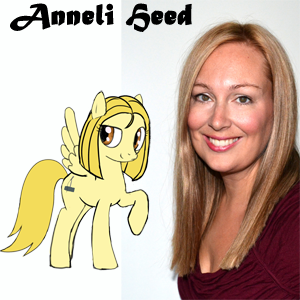 It's as hard to believe for us as it is for you but – it's the truth! We would like to welcome the very first voice actress to Czequestria – the one and only Anneli Heed!
She is from the land of Vikings – from Sweden! Apart from voice acting she also does stand-up comedy, impersonation, and sing too! Many of us were lucky to witness this first-hand at Crystal Fair's party where she paired up with Daniel Ingram and it was breath-taking!
And don't forget the very first moment that sparkled all of this – the famous Soarin's apple pie!
Find out more on the Guests page.